A series of Visual Field Tests with our medical device GAP (Gaze Analyzing Perimeter) has been conducted at Health Screenings in Iyo City, Ehime Prefecture
~ Participated in Digital Implementation Acceleration Project in Ehime Prefecture ~
By promoting the adoption of our visual field perimeters, we aim to increase opportunities for individuals to undergo visual field tests. This, in turn, facilitates the early detection, regular monitoring, and treatment of various eye diseases, including glaucoma.

Our GAP business has been selected for the Digital Implementation Acceleration Project in Ehime Prefecture. As a pilot implementation to promote early detection of glaucoma*1, we have been conducting visual field tests with our perimeter "GAP/GAP-screener"*2 at the health screenings organized by Iyo City, Ehime Prefecture.
*1, Glaucoma

Glaucoma is a disease characterized by impairment of the optic nerve, which transmits visual information from the eyes to the brain, resulting in a narrowing of the visual field. It is associated with minimal self-awareness symptoms, and once the visual field is lost, it cannot be restored. Therefore, early detection and treatment are crucial for inhibiting disease progression.
*2, GAP/GAP-screener

The GAP/GAP-screener is a 'Gaze Analysis type' of perimeter that uses a near-objective measurement method, powered by eye-tracking technology. It doesn't require any fixation or button pressing from the patient, which significantly reduces the time required for visual recognition and operation. Moreover, as it's a head-mounted display, it eliminates the need for a dark room or large space typically required by traditional testing methods. This allows patients to undergo the examination in a more comfortable posture.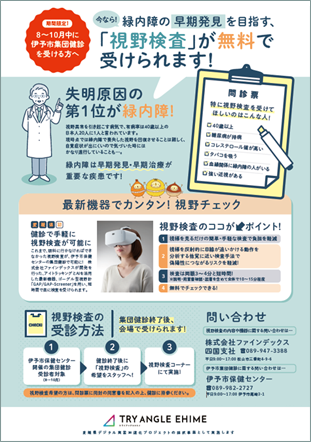 We have raised awareness among 16,183 households residing in Iyo-city by distributing flyers through newspaper inserts and sending them to applicants of health screening, informing them about the opportunity to receive a complimentary "visual field test."
Iyo City Public Health Center, the venue for the health screening.
Those who are interested can avail free visual field tests as part of the health screenings.
Registrations are accepted for those who wish to participate.
Once completed registrations, patients wait for their turn for the tests in the waiting area.
The tests are performed using a head-mounted device, eliminating the need to dim the room. Additionally, the device is compact and portable, enabling simultaneous testing of multiple individuals.
The test takes 10-15 minutes for both eyes, including the preliminary explanation.
Statistics
Examination Date
Total Number of Examinations
2022
August 18th / 26th / 31st
September 1st / 8th / 14th / 28th / 29th
October 21st / 22nd
707 individuals (as of the end of October 2022)
2023
May 19th / 23rd
June 4th / 15th / 30th
86 individuals (as of June 30, 2023)
Beyond promoting visual field tests, this project also plans to utilize examination data to support various impact analyses. These include improvements in community health, extension of working life, and reduction of medical costs. In collaboration with the specialists in big data analysis in the medical field at Global Health Consulting Japan Co., Ltd., we aim to conduct a long-term, multifaceted evaluation of these effects.
TRY ANGLE EHIME :

Operating within Ehime Prefecture, this project serves as a support system for future-oriented challenges from various angles. It stems from the collaborative efforts of three key players: companies offering digital solutions, local businesses, and administrative bodies. In response to diverse regional challenges across various industries, Ehime Prefecture calls for project proposals from private businesses, including consortium. Proposals with high feasibility for implementing digital technologies and facilitating lateral expansion within the prefecture are then selected.
■TRY ANGLE EHIME Official website : External link, available only in Japanese